Asset Tagging & Management Systems
Can you Afford Not to Employ This Technology?
An average hospital loses many £000's every day in due to wasted time spent searching for mobile medical equipment, not to mention the over-procurement of assets ensuring availability. With our asset tracking systems, you'll be able to realise a fast return on your investment within the healthcare sector.
With simple list views of your items you'll be combining real-time location asset tracking information with important maintenance and inventory data and information. This will enable your staff to efficiently and effectively manage your healthcare assets throughout the hospital. Alternatively, for a more intuitive overview, your items can viewed in a graphical format.
Finding Your Assets Quickly
Finding your important assets quickly will improve patient outcomes and patient access in the hospital. Our management and tracking solutions will also improve patient flow by eliminating senseless blockages and even aid with improving hospital operations generally.
Preventing Hoarding of Assets
Hoarding is a massive issue in the most hospitals. If you're looking to change to culture of hoarding, then our real time location technology is the obvious starting point. You'll also be able to receive automatic alerts when hospital units run low on IV pumps with our asset tracking system – and even in conjunction with barcode scanners.
Automate Preventative Maintenance Dates
With our software, you'll also be able to evaluate any purchasing requests by using super accurate and unbiased data behind how often existing equipment is actually used for patient care. With our system, when an asset such as an IV Pump exceeds its scheduled period in say the hospital repair department a reminder notification can automatically be sent to the appropriate people to expedite matters. In summary, effective Asset Management also relies heavily on effective maintenance procedures and our technology can assist with your asset register.
The Accuracy of Our Locating Technology
Unlike other RTLS technologies, we have found that the investment in employing infrared (IR) and radio frequency (RFID) technology, sometimes coupled with LF beacons allows for very precise locating. The last thing our clients would want is the hassle of having to constantly recalibrate their system. Since IR signals cannot penetrate walls, we can easily achieve room granular locating.  When can also define smaller sections of the room or for example to detect a person in the very near field of a door or cabinet. A well designed system depends on your choice of infrastructure from day one.
Long Battery Tag Life – To Free You Up For Things That Really Matter
Rest assured that when idle, intervals between signals is longer and will save on battery life. As soon as tags senses motion again, it automatically changes its transmission mode to normal intervals. Long battery life is a tremendous lifecycle feature that our clients really appreciate since it reduces disruption down the line in their already busy lives.
Key Features
Real Time Awareness of Inventory

Improve patient flow by quickly getting equipment for patients
Reduce Preventative Maintenance Times

Reduce Needless Equipment Purchases
Rule Driven Alerts and Prompts

Improve Efficiency for Carers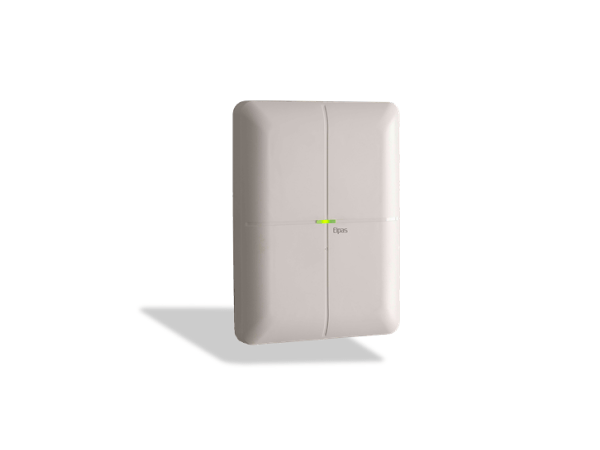 Features:
The LF Beacon is a wall or ceiling mountable low frequency emitter for use in indoor building environments. The device provides Elpas RTLS solutions with immediate location awareness that a tagged asset or person has passed through a protected doorway or a specific entrance/exit area.
The LF Beacon emits a programmable field up to 4.5m/ 14.7ft in radius and can be deployed in a primary–secondary configuration for covering double-doors or indoor lobby areas.
Welcome to our Asset Tagging Systems
Ultra Safe Call Capacity, Handling & Data Logging
Zero Calls Lost
Choose RTLS Communications?
Call Us Now! For Straightforward Honest Engineering Advice: 0800 6129 549